Wherever you are in your health journey, we're here to support you!
We all want to live life to the fullest and be there for the people we love, but to do this we need to take care of ourselves. It isn't always easy to juggle life's demands and make healthy choices, so to help you we've created the Healthy Living Resource Center to make your journey toward a healthier you as smooth and easy as possible. Along with information, class schedules and tips, you'll hear from other healthcare workers who share their success stories. So check it out today —we think you'll be glad you did!
Donna Rey, EdD
Executive Director and CEO,
1199SEIU Benefit and Pension Funds
Message from the Executive Director
Dear 1199SEIU Members,
Welcome to a special edition of For Your Benefit, created to inspire you, our members, to live healthier, happier lives. This special edition is focused on your total health, because for all you've been through—and all that you do—you deserve the focus to be on YOU! And, to support you on your health journey, I am excited to share with you our new online Healthy Living Resource Center!
Good health is the key that allows us to experience life's joys. It enables us to live our lives to the fullest, unlock opportunities and be there for those who need us.
Like many of you, I know it can sometimes be challenging to take the time we need for self-care, rejuvenation and making sure our health is in order. Yet, good health is the key that allows us to experience life's joys. It enables us to live our lives to the fullest, unlock opportunities and be there for those we love. That is why we created the Healthy Living Resource Center. It is our way of supporting you on your healthcare journey, by connecting you with the information and tools you need to thrive and live your best lives. We know you take your health seriously, and we want to make your journey easier.
Your journey starts with taking one small step. That step will be different for everyone, but by starting small and building on your accomplishments, you will prevail. Only you can unlock the door to your health and we are here to provide the keys for you to do that.
So get ready for an illuminating experience. To help you navigate the path to continued wellness, both the Resource Center and this special edition of For Your Benefit are divided into the following sections: Healthy Eating, Healthy Bodies, Healthy Hearts, Healthy Minds and Healthy Provider Relationships. Each area provides ways for you to learn and connect, whether you prefer virtual, in-person, solo, one-on-one, group, traditional, nontraditional or holistic options.
You will also hear from other 1199SEIU members, as they share their own experiences with healthy living and its advantages. Plus, you'll hear from experts, learn about the health measures you should keep an eye on and find out about Benefit Fund resources as well as exciting partnerships with some of our participating providers.
Of course, this issue provides just a glimpse of the Healthy Living Resource Center. Please visit the Healthy Living Resource Center regularly to discover all that it has to offer. And we would like to hear from you—what information you find helpful and what else you would like to see. You'll be able to share your thoughts, questions and opinions with us on the site. We look forward to taking this journey with you.
Meanwhile, enjoy the rest of the year—with all the promise that it holds—and stay well!
In good health,
Donna Rey, EdD
Executive Director and CEO
1199SEIU Benefit and Pension Funds
Being there starts with healthy eating
Fuel. Medicine. Love. Food is all these things and more.
Eating a healthy diet gives us the building blocks to be present for life's precious moments. It can also help our children grow stronger and be more focused in school. All of this adds up to our living longer, fuller lives. Although the basics of healthy eating are simple, it isn't always easy to do. Knowing what kind of fuel is best for your body is a great place to start.
Fruits: Fresh fruits are best, but frozen, canned or dried fruit also deliver important vitamins and nutrients.
Vegetables: The wide variety of vegetables—beans, carrots, corn, salads—can win over even the pickiest eater.
Dairy: Fat-free and low-fat milk, yogurt and cheeses provide essential calcium.
Whole grains: Whole-grain breads, pastas and cereals are high in vitamins, minerals, protein, antioxidants and fiber.
Protein: Proteins like fish, chicken, beans and lentils help fuel your body and maintain a healthy weight.
Sources: CDC, Healthline
Sign Up for WeightWatchers!
WeightWatchers has a new, holistic approach that incorporates strategies to support your weight-loss goals through diet, physical activity, mindset and better sleep methods. If you have health benefits through the Benefit Fund, sign up for WeightWatchers as your New Year's resolution!
Meet Tajwar
Eating healthy foods makes us feel better and helps us stay in shape, so we avoid problems down the road.
Tajwar Hossain loves to cook with her family, preparing food that is not only delicious but also good for their health. "I make sure my kids know healthy eating is important," Tajwar says. "We love cooking daal, curries and lentil soup with fresh vegetables and meat. Eating healthy foods makes us feel better and helps us stay in shape, so we avoid problems down the road." And eating healthfully is just as important when she's away from home. "I sandwiches to work that we prepare ahead of time," she says. "That helps me avoid junk food." Tajwar's family also offers moral support when she needs it: "Since my kids know how important healthy eating can be, they stay on top of me, always reminding me that I need to eat well."
Hear from the expert!
"Eating the rainbow helps ensure you're getting all the nutrients you need."
Abbie Gellman, MS, RD, CDN,
Registered Dietician and Chef Director of the Teaching Kitchen and Culinary Medicine at SBH Health System.
Eat the Rainbow
Different-colored plants are linked to higher levels of specific nutrients and health benefits—so eat the rainbow every day!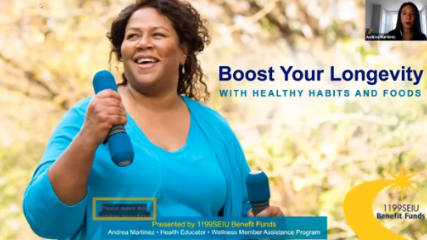 A healthy body gives you freedom
Freedom to dream. Freedom to thrive.
Getting more movement into your everyday routine is the best way to improve your emotional and physical wellness—and you may lose weight and cut down on the risk of illness. So whether you're dusting off your sneakers or lacing them up for the first time, it's never too late to get walking, running, biking or dancing—just get moving so that you can do the things you enjoy!
Here are some simple ideas to get you started—try choosing one —and remember, every little bit counts!
Get off the subway or bus one stop earlier and walk the rest of the way.
Take the stairs instead of the elevator or escalator.
Use TV commercial breaks to do 10 crunches or dance.
Clean the bathroom, do laundry, wash dishes—they all burn calories.
Stand up, walk around, stretch or tense your stomach muscles and hold and release eight seconds each time, for five minutes several times a day—at work or at home.
Play with your kids or pet.
Take a 30-minute walk after a meal once a day.
Sources: WebMD and NIH
Try the Resistance Band Workout
Kick-start your fitness routine with low-impact exercise like the Benefit Funds Resistance Band Total-Body Workout for all fitness levels.
Meet Edwin
Edwin Torres walks up to seven miles a day and regularly uses home exercise equipment to maintain his health. "Hey, I'm almost 60," he says. "I gotta stay in shape!" Diagnosed with diabetes and high cholesterol, Edwin has seen how other people with these conditions have experienced poor outcomes, so he stays active to help keep both of them under control. But those aren't the only reasons he works out. "It makes my day when I exercise," Edwin explains. "When I go running, I feel like I've accomplished something—and that brings me joy." He even has a role model for inspiration. "My grandmother lived to be 106," he says. "I want to get near that age, too!"
Expert Opinion!
"Opportunities to make adjustments come in big and small sizes, such as joining a gym, beginning group exercise classes online or in-person, stretching on your own or walking more each day"
Manisha Kulshreshtha, MD,
Senior Vice President, Chief Clinical and Strategy Officer,
SBH Health System
Know Your Numbers
Your fitness numbers, regular preventive screenings and annual checkups with your doctor help give you a clear picture of where you stand, including your heart rate and blood pressure.
From your heart to theirs
It's an amazing machine.
Your heart works around the clock to keep your body and mind running smoothly, pumping blood and oxygen to all of your organs. But to do its job well, it requires regular maintenance. Taking care of your heart allows you to enjoy your friends, family and daily activities. So take the time to maintain your heart health:
Know your numbers – blood pressure, cholesterol, blood sugar, Body Mass Index.
Get routine checkups – annual physicals, with recommended screenings.
Eat healthfully – fruits, vegetables, lean meats, dairy, whole grains and water.
Exercise regularly – try to get 30 minutes a day—remember, it doesn't have to be all at once; every little bit counts.
Maintain a healthy weight – a combination of healthy eating and exercise.
Manage stress – self-care, meditation, "me" time.
Quit smoking – smoking damages blood vessels, raising blood pressure.
Long-life Tip
Knowing your numbers is one of the most important things you can do to stay heart healthy. So visit our Healthy Hearts page to view the Know Your Numbers chart and our easy-to-use BMI calculator.
Meet Sylvanus
When I watch my heart health, I know I'm doing the best I can in order to live a long and healthy life.
After being diagnosed with Type 2 diabetes, Sylvanus Kidd made changes to her diet and lifestyle to get her blood sugar under control—and stay heart healthy. "I walk more and watch what I eat," Sylvanus explains. She's cut down on sodium and fatty foods and often prepares oatmeal with berries and walnuts for breakfast. "Not only is it good for my heart," she says, "I feel energetic when I eat healthy." She also drinks plenty of water and makes it a point to "know her numbers," having her cholesterol and blood sugar levels monitored by her physician and checking her blood pressure twice a day. "When I watch my heart health, I know I'm doing the best I can in order to live a long and healthy life."
Expert Opinion!
"My research is about developing strategies to reduce the racial gap and the morbidity gap in terms of cardiovascular disease—hypertension, high blood pressure and stroke. One way to solve the problem is to bring health into the community (barber shops, senior centers, churches). Going to communities and talking to folks about their health is not foreign to me. I'm very comfortable talking to people of different ages and different cultures."
Gbenga Ogedegbe, MD,
Professor of Population Health & Medicine,
Chief Division of Health & Behavior and Director Center for Healthful Behavior Change in the Department of Population Health at the School of Medicine at NYU Langone.
Emotional support can open up the world
As Home Care workers, you proved your resilience during the pandemic.
Now more and more of us are recognizing the need for emotional support in order to keep going and get the most out of life. Recognizing when we need help or when someone we love could benefit from mental health care is the key to finding support as soon as possible.
Watch for these signs:
Fatigue
Behavior and habit changes
Increased substance use/abuse
Drastic mood changes
Increased irritability
Isolation from friends/stopping previously enjoyed activities
Make Time for "Me" Time
Do something that makes you feel good. It might be reading a book, watching a movie, listening to some music or taking your dog for a walk. No matter what your choice is for self-care, making time for yourself is important.
Join Our Free Mindfulness Classes
Check out your Benefit Fund's lineup of free online classes that can help boost your emotional well-being.
Meet Bertha
Bertha Motta finds her work rewarding, but admits it can be stressful, which is why she pays attention to her mental and emotional well-being. "The mental health benefits we have provide so much," Bertha explains. "Making sure you have a healthy mind is a gift that you can give yourself." And she wants everyone to know it's okay to talk about mental health issues. "So many in our field are afraid, but they shouldn't be." Bertha also took part in the Benefit Funds' Wellness Member Assistance Program, where she learned tips—like taking a long stroll around the city to clear her head. "I've been to the Statue of Liberty more than 50 times," Bertha says with a laugh. "I walk around like a tourist, and I love it!"
Hear from the expert!
There are multiple ways to address well-being. Having a good laugh, eating good meals, that include vegetables and fruits, spending time in nature, and forms of exercise like dancing are all very important.
Karinn Glover Attending, Adult Outpatient Psychiatry at Montefiore; Assistant Professor of Psychiatry and Behavioral Sciences,
Albert Einstein College of Medicine.
Finding Support
Dr. Karinn Glover gives her insights on the variety of mental health professionals who can support you. She also shares healthy habits to improve your overall well-being and reduce stress.
It's a partnership
A Message from Dr. Van H. Dunn, Chief Medical Officer
You may think you should only see your doctor when you don't feel well. But getting an annual checkup with your primary care provider (PCP) is one of the most important ways to stay healthy so that you can be around for more of life's joys. A PCP can be a doctor, physician's assistant or nurse practitioner whom you visit for most medical needs and who manages your health concerns. Building a strong relationship with your PCP and visiting them annually for a thorough checkup ensures that they will get to know you, your background, your health habits and any medical conditions you have. This will help identify health risks early enough to get ahead of them and ensure that if you need it, you get the best possible treatment for you.
It's important that your PCP really listens to you and understands you. Your doctor should acknowledge any fears or concerns you have and answer your questions clearly and thoroughly. You should feel comfortable discussing things that may be personal, or even embarrassing. And if you need treatment, your doctor should explain all options with you.
If you don't feel comfortable with your current provider, visit our Healthy Relationships page for tips on what to look for when choosing a new one.
Open Dialogue
Whether you're looking for a primary care physician or a mental health professional, there are questions ou should ask to forge a strong connection. So prepare your list before your first conversation to ensure the right fit for you.
Meet Tyrone
If you want to live a long and healthy life, get yourself checked out!
Tyrone Liburd partners with his primary care physician in pursuit of his health goals, getting regular checkups without fail. "You can look good on the outside, but the inside may be a different story," Tyrone says. "My doctor helps me know what I need to do to stay healthy. It's easy to lose track of that with the hustle and bustle of life, but I trust him to tell me if something is wrong so I can do what I have to and fix it." As a West Indian, Tyrone says visiting his healthcare provider is something he doesn't take for granted. "Where I come from in the islands, we don't really go to the doctor," he explains. "But here I can find out so much about my health just by having a conversation with my physician." Which is why he shares this simple—but vital—advice: "If you want to live a long and healthy life, get yourself checked out!"
Getting regular screenings is important for good health
Screenings
Screening
Who should be screened?
How often?
Physical exam
All ages
At least every year
Hypertension
Age 18+
At least every year
Cholesterol
Age 18+
If your initial test results were abnormal, or if you're at higher risk of heart disease
Every 5 years
As directed per your doctor
Colonoscopy
Age 45+
Colonoscopy every 10 years or fecal blood test every year or Cologuard every 3 years
Ask your doctor which test is best for you
Glucose/Blood sugar
screening for diabetes
Age 45+
Every 3 years
Mammogram
Women age 45 and up who are at average Every 3 yearsrisk for breast cancer
Every year for women age 45 to 54; every 2 years for those age 55 and up
Pap test
Women age 21-65
Every 3 years
HPV and Pap test
Women age 30-65
Every 5 years (or just Pap test every 3 years)
Prostate
Men: discuss with your doctor
Men: discuss with your doctor
The Women's Health and Cancer Rights Act
If you're battling breast cancer, we're here to support you every step of the way, from mammogram to cancer care. Your health benefits give you access to quality oncology care with many of the top cancer treatment centers in the New York metropolitan area, so you won't have to go outside of your network for care.
We also provide coverage for reconstructive surgery, prostheses and other mastectomy-related services.
According to your doctor's treatment plan, you're covered for:
Reconstruction of the breast on which a mastectomy was performed;
Surgery and reconstruction of the other breast to achieve a symmetrical appearance;
Prostheses; and
Treatment for physical complications associated with all stages of the mastectomy, including lymphedemas.
These benefits are provided under the 1199SEIU National Benefit Fund for Health and Human Service Employees and the 1199SEIU Greater New York Benefit Fund. Coverage is subject to benefit rules, exclusions and limitations that may apply under the Plans, as permitted by law.
Find the help you need
Findhelp.org is the leading community care network to find free or reduced-cost services near where you live or work. Our team has customized the search engine to further refine it for you. Visit findhelp.1199SEIUBenefits.org and type in your ZIP code for a list of convenient resources that can help you find housing or food assistance, pay for transit, get legal aid and more!
BeneStream
BeneStream is available for Home Care members who work part-time and are not eligible for Benefit Fund health benefits. It provides free enrollment assistance to help you access a wide range of public benefits you may not know are available to you. BeneStream offers assistance in many languages, including Spanish, Russian, Chinese and Haitian Creole, and their experts can help you and your family navigate the enrollment process.
Home Care For Your Benefit Archive